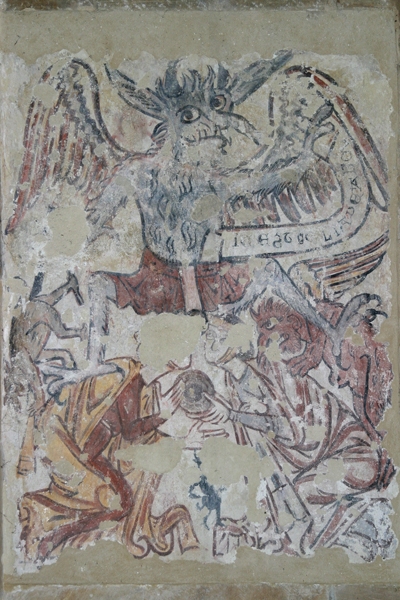 Above is a photograph of a Medieval wall painting on an arch just behind the lectern on the north side of the aisle. Theories abound as to what the image is meant to convey. It seems to be a warning against being tempted by materialistic things. It is the only such wall paining in the church – up to the Victorian restoration of the building, the walls would have been covered in such images.
The aims of the Friends of Melbourne Parish Church, which have been approved by the Charity Commission, are to:
preserve Melbourne Parish Church;

enhance and develop the facilities at Melbourne Parish Church;

encourage the broadest connection between Melbourne Parish Church and the wider community; and

raise the profile of Melbourne Parish Church nationally and internationally.
The historic nature of this imposing Norman church, noted with 4 stars in Simon Jenkins' book 'England's 1,000 Best Churches', does much to attract visitors to Melbourne and is one of the great focal points within the vibrant community, to which it is home – a community driven by energetic and visionary businesses and by enthusiastic and committed volunteers. The Friends aims to ensure that the church remains able to fulfil this role.