Airport runs a specialty
• 4 – 16 seaters available
• local and long distance journeys
• GPS tracking
• council approved
• CRB checked
Prompt, friendly & reliable!
Call: 01332 706020
E-mail:info@villagecarssd.co.uk
To visit Village Cars' website, please click on the image opposite.
Lemon and Lime Interiors takes pride in providing professional property presentation throughout the Midlands. Our bespoke service covers everything from decluttering a lived-in home to fully furnishing an empty property… and everything in between.
Our team ensure every job is personalised, tailored to each client's individual needs. We understand the stresses of moving house and aim to make this exciting and challenging life event as smooth as possible.
All our work aims to maximise your property investment by making a memorable first impression on your viewers so you achieve the best possible price for your home.
Click on our logo opposite to find out more about us.
Zeerah offers authentic Indian cuisine to eat in or take away. Visit us at our unlicensed restaurant on Derby Road, Melbourne.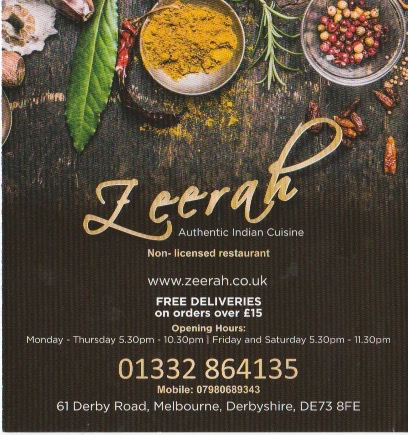 Andra Health is a private healthcare practice on Melbourne high street. We provide individual services, including nutrition consultation, physiotherapy treatment, pilates, yoga, acupuncture, sports massage and new for 2020, mental health services. We pride ourselves on delivering bespoke and top end client care in order to help you feel at your best every day. Get in touch with us via our website (just click on the image opposite), or give us a call: andrahealth.com | 01332 862922
We are loving our new location in Melbourne and are very pleased we can now offer seating to our customers.
TV screens display our product images along with our 2019 Centenary video showing how our products are made, often by hand, following the journey until they arrive in store.
We have now launched our Vegan Friendly range and for those special gatherings we offer 'Design your own Platter'.
Click on our photo to find out more…