WELCOME
TO
THE FRIENDS OF MELBOURNE PARISH CHURCH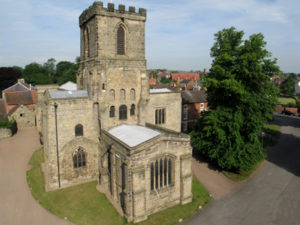 Melbourne Parish Church is a Grade 1 listed building, described in Simon Jenkins' book, "Britain's Thousand Best Churches", as one of the finest Norman churches in the country. Thousands of people visit Melbourne and its Parish Church every year and the people of Melbourne are justly proud to have such a fine building in the town and want to see it preserved and thrive.
The task of maintaining and enhancing this magnificent 900-year-old building is the responsibility of the Parochial Church Council (PCC). As a result of generosity and good management, the church is in good repair. However, it was recognised that, if Melbourne Parish Church is going to be kept in good order for the people of Melbourne and beyond for the next 900 years and is to continue to give pleasure to visitors and spiritual inspiration to all who spend time inside it, the building would have to engage more effectively with wider society and would need to expand the numbers of those involved in its care and upkeep beyond the local worshipping community.
To these ends, the Friends of Melbourne Parish Church was formed in September 2003, receiving charitable status in May 2004. There are, at present, around 200 Friends, who not only help care for the building but also benefit from a lively programme of talks, concerts and exhibitions in the church, as well as visits to other relevant places of interest.

We have recently been delighted also to be able to extend membership to a number of local businesses who recognise the importance of the church in Melbourne life and in bringing visitors to the town.